O Quilombismo
Of Resisting and Insisting. Of Flight as Fight. Of Other Democratic Egalitarian Political Philosophies
Exhibition, Research project, Workshops, Performances, Publication
2.6.–17.9.2023
All Dates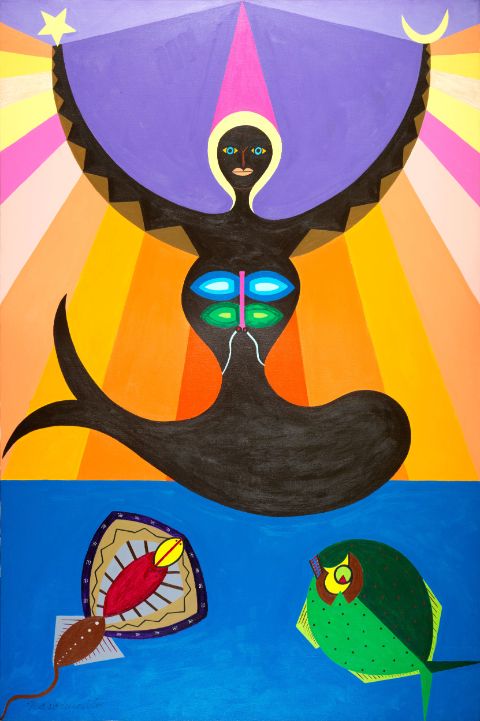 O Quilombismo: Of Resisting and Insisting. Of Flight as Fight. Of Other Democratic Egalitarian Political Philosophies is a research undertaking, an exhibition, workshops, and a series of performances that invite artists, activists, scholars, and people from other walks of life to imagine new forms of cultural and political resistance through diverse emancipation projects, past and present. The exhibition is narrated by many voices, starting from the quilombos (in Brazil), cumbes (in Venezuela), palenques (in Cuba and Colombia), cimarrones (in Mexico), maroon communities (in Jamaica and the United States), as well as other emancipatory spaces from around the world. Irrespective of the sizes of such spaces, the cultural, political, social, and economic tasks of liberation and affirmation have been imagined and put to work by artists, scholars, activists, storytellers, and other thinkers. This exhibition uses quilombos as a metaphor, but also deliberates on the intellectual and political implications of a philosophy and ideology based on the quilombos, mapping the spaces that have made them possible—whether in historical times, in the imagination of many, or in our multiple contemporary worlds.
The project's point of departure is the philosophy of quilombismo as developed by Brazilian artist, author, and politician Abdias Nascimento (1914–2011), who defined the quilombos—communities created by escaped and emancipated enslaved people—as societies of 'fraternal and free reunion, or encounter; solidarity, living together, and existential communion'. The tradition of quilombist struggle and resistance has existed throughout the Americas, from the earliest decades of the 1500s, when African enslaved populations refused to submit to European colonization and oppression and founded new forms of statehood and organization.
Central to the exhibition is a 'quest for a free space from where to wage the ongoing process of revolt against the cultural colonization', to use writer and philosopher Sylvia Wynter's words. It is a space in which a stage is set for a quilombist democratic egalitarian experience that factors in race, class, gender, religion, politics, justice, education, culture—all expressions of life in society—and different levels of power within public and private institutions.
Quilombismo embodies an anti-imperialist struggle deeply aligned with different strains of the Pan-Africanist movement and sustains radical solidarity with all peoples of the world who fight against exploitation, oppression, and poverty, as well as inequalities motivated by race, colour, gender, religion, or ideology. As a quest for and experience of liberation from colonialism, and as a practice of solidarity for mutual emancipation, the quilombist project cannot be separated from the ongoing liberation struggles of Indigenous peoples across the world.
At HKW, in a house in which cultures of conviviality and hospitality are fostered, lived, and disseminated, quilombismo is understood as a philosophy of resistance, insistence, and emancipation through collectivity and joy. This sets the tone for a programme driven by practices and technologies of enchantment, creating spaces of bliss and elation conceived around ethical and egalitarian values. Zones of struggle are reinforced by the possibility to retreat, rejuvenate, re-strategize, and gather the energy needed to imagine different futures.
In taking seriously the premise that there is much to be learned from the quilombos and quilombo-like spaces, the project insists that spaces of freedom—and freedom itself—must be continuously cultivated, brought into being, and conceived anew. The related exhibition, performances, film screenings, concerts, storytelling assemblies, cooking sessions, lectures, and research and educational programmes are practices that enliven the heritage of solidarity and struggle of quilombismo as living culture.
The project in and around the HKW building offers a pluriversal and intergenerational proposition, one outside the pedigree established by colonial modernity. It is enacted through genealogies of resistance movements and artistic strategies of self-presentation, political insurgence, resistance, and liberation, constituting new cultural forms and aesthetic paradigms of recreation and restitution, and queering as emancipation.
O Quilombismo sets a new rhythm for initiating relations that will continue annually: every summer the Escola de Quilombismo will be a space of reunion, propositions, and celebration. The Escola de Quilombismo (School of Quilombismo) opens in summer 2023.
Contributing artists:
Laeïla Adjovi, Amina Agueznay, Ana Beatriz Almeida in collaboration with Cici de Oxalá, Archive Ensemble, Albert Artwell, Barby Asante, Leo Asemota, Maria Auxiliadora, Carol Barreto, Farid Belkahia, Everald Brown, Maria Magdalena Campos-Pons, Ange Dakouo, Bastin Santan Diggekar, Diana Ejaita, Rotimi Fani-Kayode, Adama Delphine Fawundu, Tanka Fonta, Gwladys Gambie, vanessa german, Assaf Gruber, Bibijan Babushab Gunjavathi, Hattarabi Maulasab Gunjavati, Antonio Jose Guzmán & Iva Jankovic, Hermosa Intervención, Lisa Hilli, Nikau Hindin, Masimba Hwati, Hayv Kahraman, Grada Kilomba, Li Jiun-Yang, Aristote Mago,Ibrahim Mahama, Georgina Maxim, Tuli Mekondjo, Demond Melancon, Marie-Claire Messouma Manlanbien, Oscar Murillo, Museu de Arte Negra (MAN), Nontsikelelo Mutiti, Saidambi Imamasab Naik, Abdias Nascimento, Eustáquio Neves, Lizette Nin, Olu Oguibe, Temitayo Ogunbiyi, Owusu-Ankomah, Bernardo Oyarzún, Moisés Patrício, Anand Patwardhan, Zica Pires, Alberto Pitta, Mallica 'Kapo' Reynolds, Joshua Serafin, snowfuks, Taller Portobelo, Shakirambi Ganishab Tattongi, Jasmine Thomas-Girvan, Truong Cong Tung, Glicéria Tupinambá, Rubem Valentim, Badimabi Gafarsab Ugrani, Celia Vasquez Yui with Diana Ruiz Vasquez, Charmaine Watkiss, Hajra Waheed, Kaylene Whiskey, Sawangwongse Yawnghwe, Bruno Zhu
Jump to menu
Partners
Funded by the Kulturstiftung des Bundes (German Federal Cultural Foundation).
In association with the Calouste Gulbenkian Foundation as part of the PARTENARIATS GULBENKIAN programme to support Portuguese and Lusuphone art in European artistic institutions.