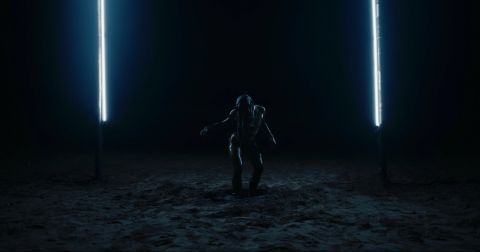 Unpacking the societal effects and psychological and physical fractures caused by colonialism and imperialism, artist/performance maker Joshua Serafin turns towards queer and Indigenous embodiment and imaginativeness as a way of negotiating and reclaiming a sense of displacement, not-belonging, and in-betweenness. Serafin's approach is reminiscent of the performative operation of marginalized peoples so potently described by theorist José Esteban Muñoz as 'disidentification'. Anchored in the context of their own research and positionality, in Miss (2020), for example, Serafin investigates the physical vocabularies and power relations of transgender beauty pageantry in the Philippines, tracing its religious and colonial predicaments as manifested in its performance of class, race, and gender. For O Quilombismo, the artist presents Void, a film that is part of the trilogy Cosmological Gangbang (2021–24), referencing a total absence and the potential to become anything—a situation queer subjectivities are placed in when confronted with their erasure from both historical and future existence. Void is a duality: a non-binary, brown-bodied, ghostly deity character and alter identity, and its own representation or lack of it. It affirms and departs from itself, and offers refuge in Indigenous ancestrality and its queerness, in the modus of myth characteristic of the fluid, pre-colonial Filipino gender belief systems, and in the spirituality passed down through intergenerational oral knowledge.
Work in the exhibition: Void (2022), video installation, 10'. Film Direction, Cinematography: Brandon Relucio and Davide Belotti, Sound Design: Alex Zhang Huntai. Courtesy of the artist
A live performance of Void takes place on 23 June 2023. The live performance is supported by the Advancing Philippine Studies at Humboldt-Universität zu Berlin.