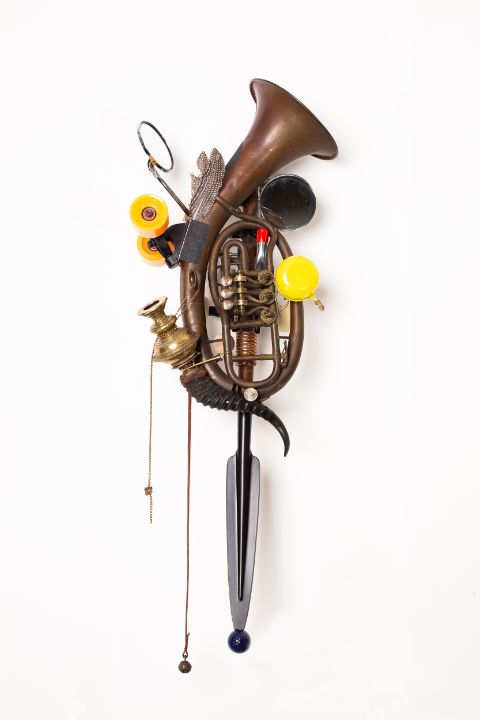 With assembled found objects, Masimba Hwati creates sculptures to which a new life is insufflated with the breath of invited sonic makers. He examines post-colonial subjects and contributes to broader reflections around artistic practice as a vehicle of change and a tool for rewriting history. The second Chimurenga (revolutionary struggle) of today's Republic of Zimbabwe took place from the early 1960s to 1979 and led to the country's liberation from colonial rule in 1980. Inspired by the resistance and resilience of imprisoned freedom fighters, Hwati highlights their acts of flight in these sculptures as crucial tools used for survival. The radio specifically was a central device for resistance struggles in Zimbabwe and other African geographies and is described by Hwati as 'an apparatus of care and healing for the people that allowed the freedom fighters to act in between the cracks and gaps of the ruling system'. Smuggling radios, newspaper clippings, and love and solidarity messages into loaves of bread became an improvised gesture performed by co-fighters and loved ones who kept the hope alive for those who were cut off from society.
Works in the exhibition: Dzikamunhenga 3 (2022) sculpture, mixed media 126 × 50 × 25 cm; Dzikamunhenga 4 (2022), sculpture, mixed media 120 × 62 × 40 cm. Courtesy of the artist and Tiwani Contemporary, London and Lagos
Bread Scores, performance by Masimba Hwati and friends Laura Anh Thu Dang, Luka Mukhavele, Lefteris Krysalis on Sunday, 4 June 2023, 15:00.