Antonio Jose Guzman & Iva Jankovic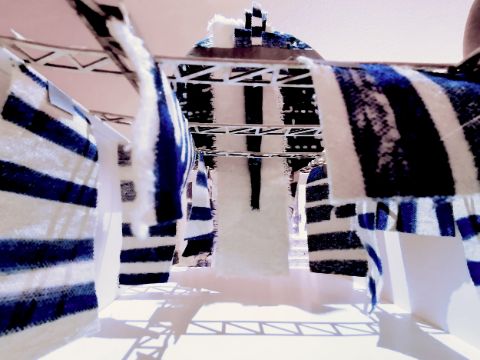 Visual artist, researcher, dub poet, and Afrofuturist Antonio Jose Guzman's multidisciplinary works tackle social justice issues and notions of community, identity, and ancestry by engaging with the colonial history of textiles, memory, and time. He is inspired by diasporic identities and centres the positive role of migration and community engagement. In Transatlantic Stargate, Guzman reinterprets the transatlantic colonial history of indigo blue textiles to interrogate the Netherlands' history of slavery and the country's colonial practices throughout the Black Atlantic. These textiles, suffused with symbolic, spiritual, and historical significance, of stories and memories of diaspora, ancient spirits, and sacred powers, became valuable during the transatlantic trade of enslaved people. Transatlantic Stargate is based on the installation and performance project Messengers of the Sun (2023) that Guzman co-conceived with Iva Jankovic. For O Quilombismo, Guzman presents a new arrangement of newly made textiles that uses the same ancient indigo block printing technique called Ajrakh from their previous work, made in collaboration with Sufiyan Ismail Khatri and his team in Ajrakhpur, India. Ajrakh, which is 4,000 years old, is more than a printing technique; consistent with the spirit of quilombismo, Ajrakh is a way of life and learning, with knowledge and practice orally passed down through generations.
Commissioned by Haus der Kulturen der Welt (HKW), coproduced by Antonio Jose Guzman, Iva Jankovic, and HKW, and realized with the support of The Mondriaan Fund, Amsterdam, 2023.
Work in the exhibition: Transatlantic Stargate (2023), indigo dyed textiles, 5 × 5 m. Courtesy of the artists