VOID
Joshua Serafin
Performance
Fri., 23.6.2023

21:00

Forough Farrokhzad Garden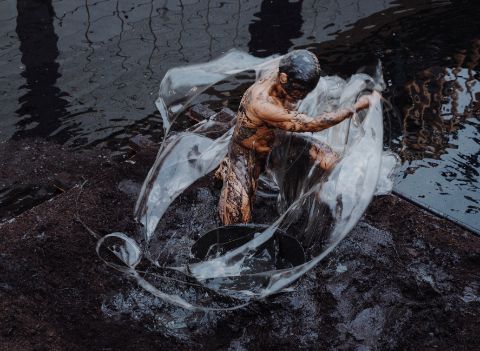 VOID (on view in the O Quilombismo exhibition) simultaneously references a total absence and the potential to become anything—a situation queer subjectivities are placed in when confronted with their erasure from both historical and future existence. VOID is a duality: a non-binary, brown-bodied, ghostly deity character and alter identity, and its own representation or lack of it. During the performance of VOID, Serafin also shows Creation Paradigm (2023), the second iteration of the Cosmological Gangbang (2021–24) trilogy, summoning the mythical origin and future of the fertility goddess of pearls, a creature of undefined gender born out of the uterus of a tropical swamp—the connecting portal between the astral and mortal worlds—who lives as a human to learn how to better care in each moment in time. In the film, Serafin's collaborators embody deities from different dimensions in a process of communal queer and Indigenous healing from the traumas of the colonial project—cis heteronormativity being one of its primary instruments of control. They attune themselves with 'nature' to listen, adapt, and work with what is offered, embracing sexual diversity as an intrinsic part of its ways.
Soundtracks designed by: Luis Miguel Ramirez Munoz, Calvin Carrier, and Alex Zhang Huntai
Live musician: Alex Zhang Huntai
Text: Lukresia Quismundo aka thirdworld bb and Joshua Serafin
The live performance is supported by Advancing Philippine Studies at Humboldt-Universität zu Berlin.