NOT waiting…
nora chipaumire and Germaine Acogny
Performance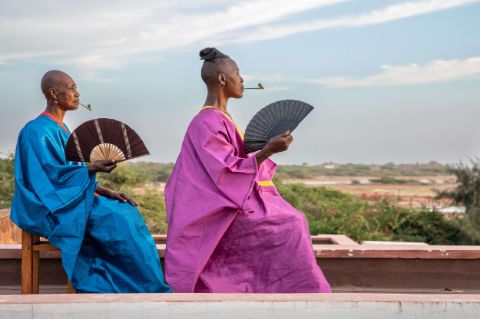 From what started as a residency in Dakar in 2022 now comes to Berlin as a newly commissioned performance. Choreographers nora chipaumire and Germaine Acogny put forth an act of refusal, of intergenerational conversation and transmission, and of sorority and solidarity—a political statement and gesture that promotes ongoing practices found in Senegal and Zimbabwe. Drawing inspiration from the history of the Lébou community and the central place that women have in the traditional Ndeup healing ceremony, chipaumire and Acogny are accompanied and guided by a sonic ensemble played by five women from Toubab Dialaw, a coastal village of fishermen in Senegal, recalling the chants that connect them to the water spirits who bring healing blessings to the community.
Concept/Art Direction: nora chipaumire
Dance: nora chipaumire, Germaine Acogny
Musicians: Ouleye Ndiaye, Adama Ndiaye, Rokhaya Cisse, Yaya Wolty Fall, Mame Ndoumbe Gaye
The performance will be mixed by Franz Schütte, Nadel Eins Studio Berlin.
Commissioned by Haus der Kulturen der Welt (HKW), co-produced by nora chipaumire, HKW, and RAW Material Company, supported by African Makers and Martine de Limburg, 2023.