Cultures d'Avenir
Exchange and research programme
2021–23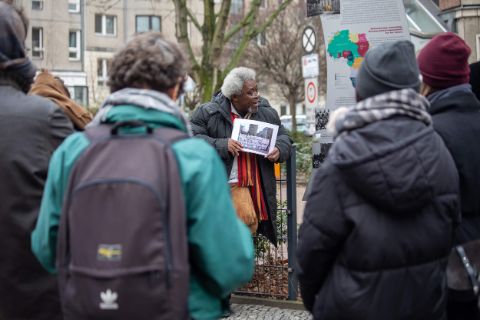 Centre Pompidou in Paris, Haus der Kulturen der Welt (HKW), and Centre de Cultura Contemporània de Barcelona (CCCB) launch the second edition of Cultures d'Avenir, a European learning and exchange programme. During a six-month period of learning, exchange, and networking, the programme invites young artists to rethink how artistic practice addresses and intersects with societal issues. How can young artists make the best use of institutional resources? How can institutions learn from younger generations? Which values does a future Europe need to develop?
The programme partners host an international network of fifteen young artists from a range of disciplines, such as theatre, dance, visual arts, and architecture. For six months, they share their projects with the network, receive advice and guidance, and develop new methodologies and creative paths. This collective learning process is supported by a large group of invited experts as well as three mentors helping participants reflect on how their artistic approach can be put into practice most fruitfully. Three in-person workshops take place during the first half of 2023 in Berlin (11–15 February), Barcelona (25–29 April), and Paris (20–24 June), while online discussions following the physical events further explore the issues tackled on site.
Cultures d'Avenir – 2nd edition
Kick-off workshop in Berlin
11–15 Feb. 2023
Cultures d'Avenir kicks off with a week-long workshop in Berlin encompassing collective walks, group work, and in-depth conversations with artists from various disciplines with a background in collaborative practice. Over the course of this week of exchange, the foundations for joint projects and shared ideas are laid. Through connections with HKW friends and frequent collaborators, the workshop aims to familiarize participants with practices and approaches that shape cultural scenes in Berlin and beyond. Afterwards, participants reflect on the experiences and ideas gathered in the workshop during online sessions with project mentors.
A second workshop takes place in April in Barcelona, while the programme concludes in June with a workshop in Paris.
With contributions by Ahmet Ögüt & Yelta Köm, Prof Dr Bonaventure Soh Bejeng Ndikung, Asa Sonjasdotter, DJ Nomi, un.thai.tled, Berlin Postkolonial, and many more.
The project is made possible with the support of the Franco-German Youth Office (FGYO) and the Allianz Foundation.
Media partner: ARTE