What to do with the world?
Billboard Campaign in Berlin
7.3.–11.6.2023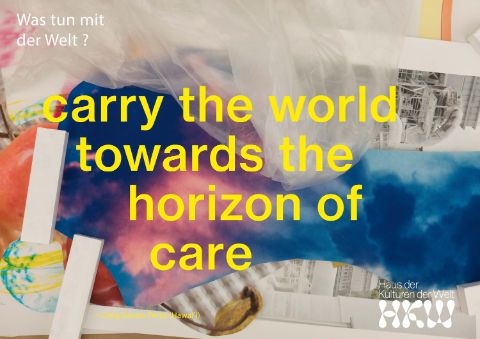 Tasked with the mandate of working with, for, and at an institution that strives to be a house of world cultures, we need to understand not only which world we are talking about, but also what to do with the world(s) we have inherited. Pushing against its use as a universal, ahistorical concept, HKW aims to acknowledge that many worlds have existed, changed, appeared, and vanished throughout history—and continue to coexist in the present.
For this project, HKW invites twelve people from different geographies, grappling with the state of the world in their work across disciplines and contexts to respond to the question: 'What to do with the world?' From Balbala, Bebedouro, Errington, Gordes, Hawaiʻi, Kathmandu, Kechurewe, Nogojiwanong, Paris, Port Antonio, and Tilcara they sent poems, questions, declarations and other messages, sharing with us their curiosities, concerns, hopes, and trepidations about the state of the world yesterday, today, and tomorrow. Artist and researcher Zoe Todd, for example, responds by expanding the question—'what are these worlds to do with us?'—and this sentiment is further shared by poet Elicura Chihuailaf, whose quote concludes with the question: 'The world wonders: what to do with humanity?' Other responses are invitations to rethink human relationality to the world. Poet and essayist Ricardo Domeneck councils a return to the waters to 'learn from the whales', while Nishnaabeg intellectual Leanne Betasamosake Simpson goes a step further—'sing to the waters … against and in spite of the present moment'—a plea to reconnect to the world as a form of resistance.
In the spirit of engaging in conversation across time zones and geographies, HKW invites Berlin-based artist, photographer, and activist Wolfgang Tillmans to consider these responses, contextualize them within his artistic dispositions, and to interpret them for a visual public intervention in the city. Reappropriating the commercial advertising infrastructure as a space to field fundamental questions about the world today, a selection of the poetic text/image conversations are mounted on billboards and other advertising spaces in Berlin throughout the spring of 2023.
With this intervention, HKW takes this question to Berliners of all walks of life outside the walls of HKW. By way of visual and textual cues, the question 'what to do with the world?' echoes and reverberates across the city, encouraging multiple interpretations of the question and the responses to it. Ahead of the re-opening in June, this project is an act of going out and an invitation to the public to bring their worlds, rather than just their cultures, with them.
Contributors
Hemley Boum
Elicura Chihuailaf
Marysé Condé
Ricardo Domeneck
Ishion Hutchinson
Craig Santos Perez
Rita Segato
Leanne Betasamosake Simpson
Manjushree Thapa
Wolfgang Tillmans
Zoe Todd
Abdourahman Waberi