Schattenmuseum
Ongoing cooperation
From 2.6.2023
All Dates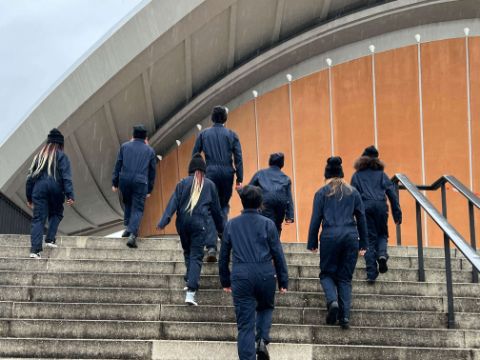 The Schattenmuseum (shadow museum) understands itself as an alternative approach to conceptualizing a museum, and as a network it develops proposals to assist institutions in engaging with communities, collections, and educational possibilities. Content, methods, and artistic formats are generated and implemented collaboratively with young people and adults. The Schattenmuseum is oriented towards the concrete structures, needs, and goals of the respective institution. In the process, it opens up a testing ground that enables questions to be asked, providing space for dialogue or an experimental set-up that involves various visitor groups and integrates their perspectives.

The Schattenmuseum is steadily growing as an experimental set-up. Since 2021 it has observed the language(s) of the city from the perspective of aliens and explored its possibilities. A research object is HKW itself. Together with the artists' collective sideviews e. V. and students from the Nürtingen primary school, the Schattenmusuem embarks on an artistic research expedition, exposing social barriers, hierarchies, and meanings along the axis of language and develops artistic-performative and interactive formats based on this research.

In the context of family biographies,and influenced by Die Remise archive of the Nürtingen primary school on the history of schools and migration in the Kreuzberg district of Berlin, the Schattenmuseum explores the malleability off language against the background of Berlin's history of migration through interviews with people on the streets of Berlin and at HKW. HKW offers a pool of languages, gestures, and stories, providing inspiration for a range of project participants. The Schattenmuseum proposes a wide range of interactive-artistic game forms, oriented around the development of HKW's programme, which extend beyond the building itself as an exhibition site to Berlin's urban space, as well as to schools and other locations. As a collaboratively developed, continually growing project structure, it can incorporate different programmes, creating corresponding artistic settings that are interactive, cross–generational spaces, within which and from which all participants can learn from each other.

At the O Quilombismo exhibition, the Schattenmuseum stages a performative game. It plays with different perspectives, incorporates biographies from the exhibition's artists, from members of the Schattenmuseum and their family archives, as well as from street and other interviews. Within the framework of the performance these diverse biographies and perspectives are realized dialogically and artistically. This generates an interactive set-up which is accessible to everyone (ages ten and up) and is offered in German. Visitors are invited to adopt other, new perspectives and engage with 'alien' and fictional biographies and thus move through the game.

The artistic setting is provided by a speaking choir, which documents the Schattenmuseum's research results as a collage of fragments from interviews, dialogues, media reports, literary texts, contents from the O Quilombismo exhibition, etc. The choir is made up of members of the Schattenmuseum and invites guests to participate.

The Schattenmuseum is composed of thirteen young people ranging in age from eleven to twenty-one who speak a total of six languages between them. It has been in existence since 2008 and, in addition to HKW, has also cooperated with other institutions including: Jewish Museum Berlin; Berlinische Galerie; the First Children's Biennale (Staatliche Kunstsammlungen Dresden); KW Institute for Contemporary Art; and the Berlin Biennale.