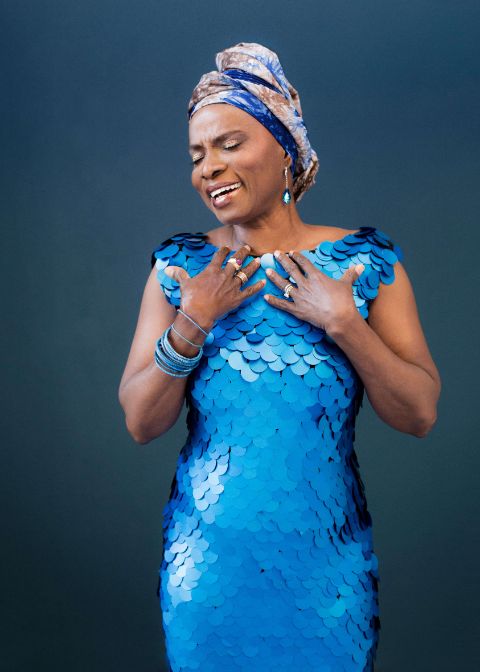 Angélique Kidjo's music embraces a wide spectrum of rhythms from the African musical legacy such as Congolese rumba, Nigerian highlife, West African funk, and Cameroonian makossa. Alongside this she combines her interest in tracing African roots in Jamaican reggae, zouk, guaguancó and descarga from the Caribbean, rock, blues and soul from North America, and samba from Brazil.
With her timeless understanding of genres, energetic performances, and innovative productions, Kidjo's music unfolds an array of sonic cultures and languages creating a unique space, from vintage to afrofuturism, from poetry to melody, from Benin to the world, back and forth. Kidjo is indeed not only one of the most important artists of her home country but also a key figure of international African music.
Coming from an intercultural family, her father was a musician from the fon people of Ouidah, and her mother a choreographer of Yoruba origin from Nigeria. From the age of six, she took part in her mother's theatre group showing great interest in dance and music. In the 1980s, she moved to Paris, where she began to develop her musical talents professionally. Her career as singer and composer really began during the late 80s and early 90s with the release of her albums Logozo and Aye.
Now 63 years old, Angélique Kidjo has enjoyed an artistic career spanning forty years, earning multiple distinctions within the contemporary music scene. Throughout her multifaceted career, she has collaborated with renowned artists such as Carlos Santana, Alicia Keys, Bono, Yemi Alade, Burna Boy, Calypso Rose, and Petrona Martinez, among others. Her recent works include Remain in Light (2018), an outburst of African sonorities that reimagines the post-punk rock sound of the Talking Heads 1980 album of the same name. Celia (2019), meanwhile, is a tribute to Cuban singer Celia Cruz that explores the richness of Afro-Cuban musical heritage, and Mother Nature (2021) comprises a mix of Afrobeat, reggae, and other influences to sensitively address environmental and social issues.
On more than one occasion, Kidjo has expressed with deep emotion that Miriam Makeba has long been her greatest inspiration, not only in terms of music but also activism. Echoing Makeba, Kidjo is also an activist for various social and political causes, including gender equality, the environment, education, and health in Africa.