Almost Blind. Chile 1973/2023
Lectures, Readings, Screenings, Talks
11.9.2023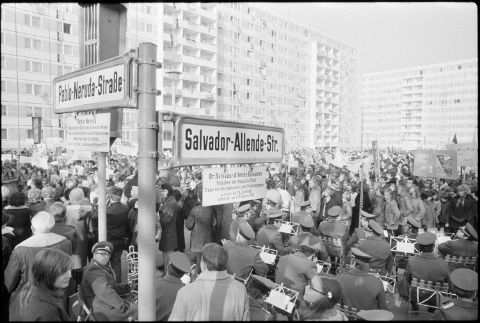 On 11 September 2023, HKW hosts a multidisciplinary one-day gathering in commemoration of the 1973 coup d'état in Chile in order to explore questions around the role of cultural (post)memory in the repair, transformation, and renaissance in Chile fifty years after this socio-political and economic breaking point.
Almost Blind. Chile 1973/2023 retrieves the metaphor of an almost blind presence that is described as wandering through Chile's landscape in Gabriela Mistral's posthumously published volume of poetry, Poema de Chile (1967). It also acknowledges and engages with recent events in the country surrounding the social uprising of 2019–20, during which the intentional infliction of eye injuries upon young protesters became a dominant tool of repression. Using postmemory as an entry point to re-examine the coup, Almost Blind considers the aftermath of this traumatic event on present-day struggles in Chile.
The ways in which the events of 1973 reverberate in today's social struggles and how the ghostly presence of the dictatorship has reappeared and been transformed by the neoliberal Chile of recent years constitute essential points for a dialogue about the importance of not forgetting. By expanding exchanges between different generations and exiled communities and linking them to various approaches to knowledge exchange and memory politics, Almost Blind brings together many voices to reflect on the past and possible futures.