Inherited Testimonies
Sun., 3.12.2023

14:00

In English with simulataneous translation in German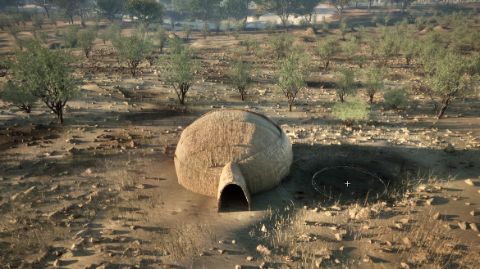 In 1893, the German Schutztruppen attacked the Witbooi Nama settlement of ||Nâ‡gâs, also known as Hornkranz, in German Southwest Africa (present-day Namibia). This was the beginning of a genocidal campaign against the Herero and Nama peoples that reached its peak between 1904 and 1908. This project, led by the Nama Traditional Leaders Association (NTLA) and the Ovaherero Traditional Authority (OTA), seeks to uncover traces of the genocide buried within the Namibian environment but present in the hearts of its affected communities, within the transformed physical environment, climate, vegetation, and the oral tradition of its peoples.
Inherited Testimonies is a live performance of culturally inherited, collective testimonies, delivered by traditional leaders and oral historians within a continuously transformed visual and auditory immersive environment—a large projection of evolving architectural and environmental scenes—conceived by Forensic Architecture/Forensis.

The words of traditional witnesses are delivered within and in relation to space, activated by their relation to body and screen. The testimonies are delivered as an act of collective construction of an environment, as a form of 'world building' and navigating within it.
The meaning of the landscape is gradually revealed as it gets inhabited with structures, objects, indigenous plants, and archival images. Contesting the western legal contexts in which testimony is an institutionally regulated and circumscribed act, the event offers a form of immersive, situated, oral, trans-generational testimony and inhabits a space of trauma that is diffuse, continuous, collective, and cumulative.

This interaction is an attempt to reconstruct lost sites of atrocity such as the extermination camp in Shark Island and the massacre of Hornkranz as well as the lost world—an environment transformed by colonial violence and the theft of Indigenous land.
Jump to menu
With contributions from:
Ashkan Cheheltan, Agata Nguyen Chuong, Omar Ferwati, Gaob Hanse, Angelina Kanduvarisa, Mutjinde Katjiua, Sima Luipert, Mark Mushiba, Tobechukwu Onwukeme, Maboss Ortmann, Eyal Weizman
The project is a partnership between Forensic Architecture, Forensis, NTLA and OTA, conducted in collaboration with the Staffordshire University Centre of Archaeology, ECCHR and Medico International
Supported by Kulturstiftung des Bundes (German Federal Cultural Foundation), as part of the research project German Colonial Genocide in Namibia: Infrastructure of Genocide.