Ancestral Protocols and Technologies of Conviviality
Mon., 31.7.2023

12:00–20:00

Wed., 26.7.2023

12:00–20:00

Thu., 27.7.2023

12:00–20:00

Fri., 28.7.2023

12:00–20:00

Sat., 29.7.2023

12:00–20:00

Sun., 30.7.2023

12:00–20:00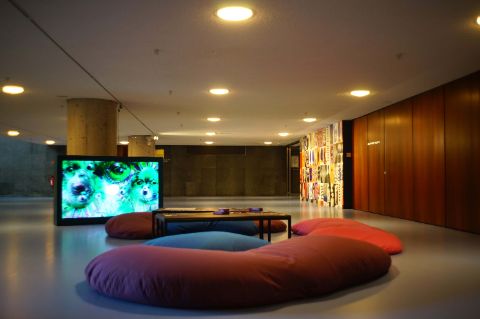 AI: Ancestral Immediacies is a three-day programme that frames questions of technology as questions of memory, kinship, and knowledge in relation to practices of liberation. It inserts itself into the spacetime of the O Quilombismo exhibition, creating an intersection between these two modalities of doing in the Bessie Head Foyer. As a practice of site-specific liberation, amidst today's contemporary conditions quilombismo must address digital colonialism and formulate technologies of worldmaking. For the three days of AI: Ancestral Immediacies, the installations by Vishal Kumaraswamy and blk banaana ruminate on modalities of inhabiting and adapting. The works function as a set of protocols—technological frameworks on how to do things—which inhabit the space and propose reading quilombismo anew, making quilombist knowledge and practices applicable for new contexts and communities.
Next to the two artistic video propositions, the Oracle for Transfeminist Technologies is presented, a hands-on card deck designed to help collectively envision and share ideas for transfeminist technologies from the future, kindly provided by codingrights. Anyone is invited to consult the oracle—or prototype their own—as a technology for connection and exchange.
Ancestral Protocols and Technologies of Conviviality thus understand this space as one that is open to different inhabitations and the modalities of hanging out.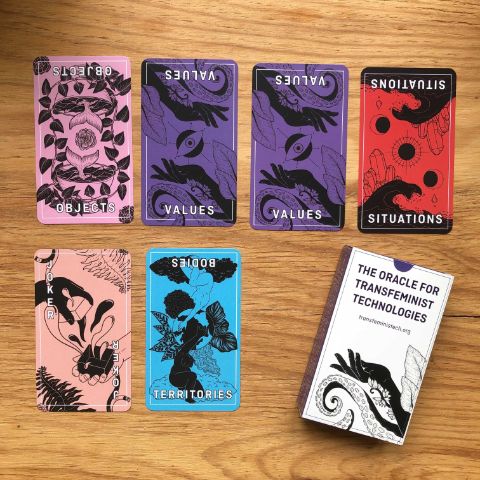 The Oracle for Transfeminist Technologies
The technologies that underpin social infrastructures too often reproduce and maintain historical social inequality and the oppressive norms of consumerist, misogynist, racist, ableist, colonialist, and hetero-patriarchal society. The inaccessibility of spaces where debates around tech happen, as well the language and terminology used, upholds this trend, making it difficult for many individuals and communities to partake and create change.
But is there a way to hack these dominant infrastructures for more equitable futures?
The Oracle for Transfeminist Technologies is a speculative co-design game to help envision and share ideas for other, transfeminist technologies of the future. The wisdom of the Oracle, embedded with transfeminist values, helps us foresee a future where technologies are designed by and for people who are too often excluded from or targeted by technology in today's world. In this installation, we invite you to play this hands-on card game and explore or come up with technologies that reach beyond the colonial status quo.
Oracle for Transfeminist Technologies is developed in a number of workshops in different contexts, involving a diverse range of voices. The game is also currently available in German, English, Spanish and Portuguese at www.transfeministech.org.
The Oracle is developed in partnership between Coding Rights and Design Justice Network
Concept and coordination: Joana Varon (Coding Rights) and Sasha Costanza-Chock (Design Justice Network)
Design and Illustration: Clarote (Coding Rights)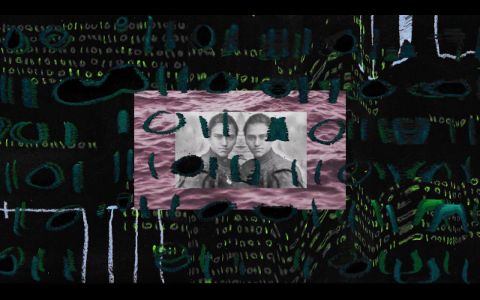 blk banaana
She is always here, like water (2021), single channel video, 4' 54"
She is always here, like water is the artist's attempt to open a spiritual connection to her maternal ancestors, who are of the sea, who found themselves on bodies of land via the sea. It emulates what Saidiya Hartman calls the 'black noise' of forgotten voices, utterances, dreams, and memory lost at sea.
The work is a visual allegory that explores the artist's body as a home and as a vessel for the dreams, memories, and data which do not belong to her but that are simultaneously so intimately hers. It features poetry written and narrated in response to an excerpt of a myth written by her mother, who imagines how the collective trajectories of a non-descript maternal ancestor resulted in her arriving in her body on St Helena Island in the middle of the Atlantic Ocean.

an interdimensional womb (2021), single channel video, 9' 59"
Honouring the poetics of psycho-spiritual and metaphysical transcendence, an interdimensional womb is a space of transition and liminality, and brings together sonic and visual textures that exemplify the infinite intricacies of the present. The womb, as a technology embodying generative potential, points to gendered and intersectional dimensions of datafied everyday life, centring once more on the body as the place of experience. An interdimensional womb offers a post-pandemic reflection relating to our spiritual connections online and offline, and forms part of a multi-sensory imagining of the separation (and connection) between data and being, presenting both as potentially open, multiple, and always incomplete.
An interdimensional womb is a collaborative work by blk banaana and dumama.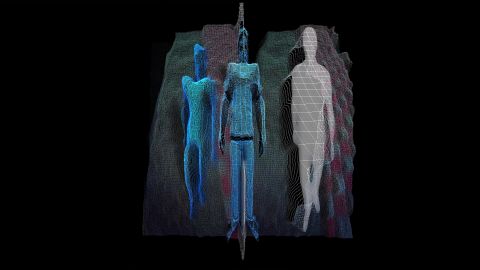 Vishal Kumaraswamy
ಸ್ವಾಯತ್ತತೆ Swaayattate (Autonomy) (2020), single channel video, 15' 52"
ಸ್ವಾಯತ್ತತೆ Swaayattate (Autonomy) is an investigation into the complex entanglements of the synthetic and organic worlds. The work is set in the geographic context of a local computer repair marketplace in Bangalore and examines the nature of human-machine relationships through the contemporary lens of gender, caste and labour. Traversing timelines and temporalities, the films question notions of autonomy, care, duty, and relation for the becoming-conscious of an Other being, configured sometimes as AI, and sometimes as the human encountering it, questioning the boundaries of what it means to be artificial, intelligent, or autonomous. Portions of the work are written in collaboration with a text-based neural network (GPT-2 Transformer) and sometimes recited by a synthetic generative voice.
your dataset won't let me thrive / your dataset must die (2021), pair of video essay, 1' 56" and 2' 9",
your dataset won't let me thrive / your dataset must die are a pair of video essays that seek to counter the myths surrounding AI datasets and algorithms as objective and universal. Instead, the work of Black beat poet Bob Kaufman and the Kannada Dalit poet Siddalingaiah become a database informing an image-text juxtaposition co-created by generative AI. The result illustrates the troubles of representation as much as a lack thereof for Black and Bahujan (Dalit) lived experience. Exploring not only troubling modes of creation but also the joy of emergence, the work shows how authenticity and singularity become fraught and ambivalent.