A Participatory Planet / Unearthing
Relational Paths Towards Environmental Justice
Wed., 8.11.2023

21:30

Weltwirtschaft Restaurant

Wed., 8.11.2023

19:00

Performance, Panel Conversation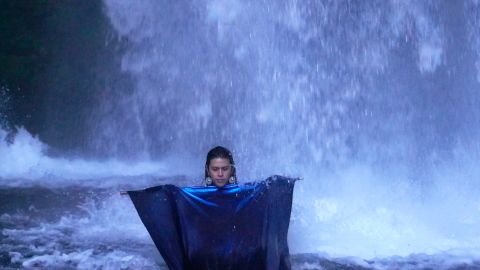 What to do with a world whose environmental conditions as we know them seem close to collapse? As the myriad effects of the climate crisis intensify, A Participatory Planet seeks to engage the earth as a foundational agent invested in the lives of all beings. This series takes as its starting point that a planet which participates in sustaining all types of life, human and non-human alike, is also active in constructing liveable spaces in relation to and in concert with the earth.
A Participatory Planet negotiates pathways towards environmental justice in four interconnected phases: Unearthing, Growing, Consuming, and Discarding. This evening constitutes the Unearthing session and considers ways of knowing and doing that cultivate fertile ground for exploring participatory ways of living on and with the earth.
Integrating the worldview of her people, the artist Seba Calfuqueo offers flowing like waterfalls as a performative narration of the story of Copihue and Llancalahuen. The two plants that stand for incarnations of Mapuche bodies killed by colonizers, now grow intertwined with one another near humid areas of the native forest. The artist refers to them as an embodiment of Mapuche resistance in her piece, presented for the first time in Berlin.
The ensuing conversation puts Seba Calfuqueo in discussion with philosopher and lawyer Teresa Vicente Gimenéz, environmental historian Jessica J. Lee, and journalist and activist Peter Emorinken-Donatus. It focuses on climate and migration, the prevention of extraction, and the relation to the earth and its manifold milieus as living, breathing, and agential entities: What can we learn from the past to inform future struggles for environmental justice? Can a poetics of non-human life liberate new potentials to counter the mechanisms of ecological crisis? And how can alliances between human and non-human life be formed?
From 21:30 in Weltwirtschaft:
DJ Set by Senu (SLIC UNIT)
DJ Set by B3njo
Jump to menu
A Participatory Planet is a series of the Allianz Foundation and the Haus der Kulturen der Welt, funded by the Federal Agency for Civic Education (bpb).